Remembering Dr. Pearse Lyons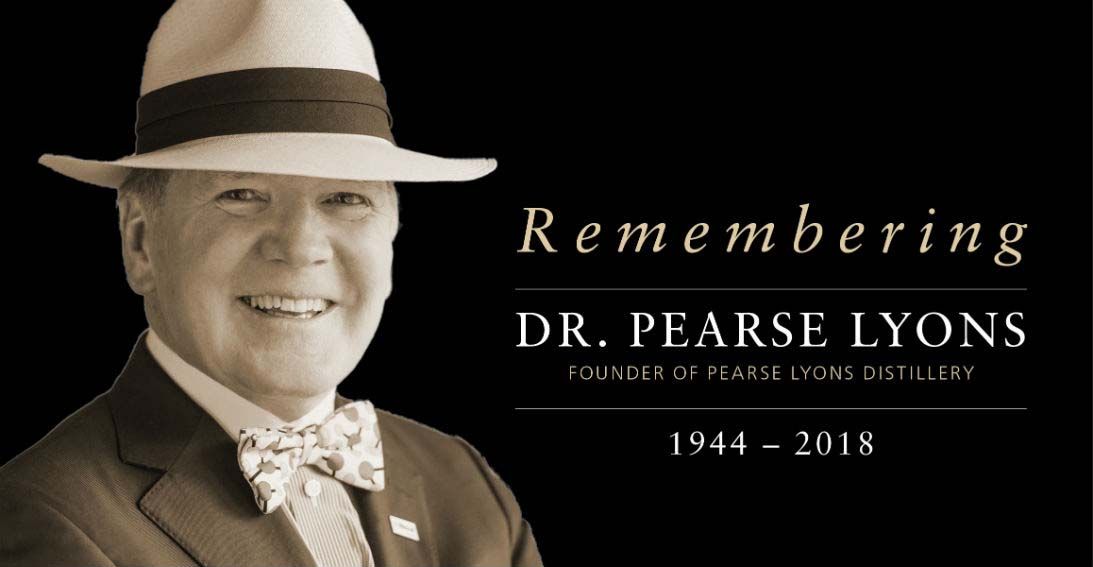 Dr. Pearse Lyons, the Irish entrepreneur whose vision for improving global agriculture built a multibillion-dollar international business, died March 8. He was 73.
In the late 1970s, Lyons immigrated to the United States with his young family — Deirdre, Aoife and Mark — and a dream. His vision — to sustain the planet and all things living in it by applying his yeast fermentation expertise to agricultural challenges — came to life in his home garage with $10,000.
Today, that vision is put to work by Alltech's global team of more than 5,000 people around the world. Alltech focuses on improving animal, crop and human health and performance through its innovative use of yeast fermentation, enzyme technology, algae and nutrigenomics. Its mission has always been guided by Dr. Lyons' early commitment to the "ACE principle" – a promise that the company's work must have a positive impact on the Animal, the Consumer and the Environment.
Dr. Lyons was first and foremost an entrepreneur and tireless innovator, with a keen scientific mind. His scientific expertise, combined with an acute business sense, helped revolutionize the animal feed industry through the introduction of natural ingredients to animal feed.
He was widely regarded as an inspirational leader and communicator. He lived with passion and purpose — rising before dawn to begin communicating with colleagues around the world, issuing daily "One Minute Charge" motivational messages and traveling incessantly so he could meet his team members and customers in person.
He built Alltech into the fastest-growing company in the global animal health and nutrition industry through innovative technology and strong branding. Today, Alltech is the only privately held and family-owned business among the top animal health companies in the world.
The company's reach has also grown far beyond yeast-based additives for animal feed to include award-winning beers and spirits, a crop science business and even promising research into human health challenges, such as diabetes and Alzheimer's disease.
Lyons was very proud of the company's privately-owned status and was resolute on keeping it. He was a man who liked to move quickly on opportunities, and he relished the agility and speed that being accountable only to himself afforded him.
Early life
Born on August 3, 1944, to Thomas Kevin and Margaret (nee Dunne) Lyons and raised in Dundalk, County Louth, Ireland, he was one of six children. On his mother's side, he came from five generations of coopers who supplied barrels to distilleries in Ireland – although both his parents were teetotalers.
His mother owned a small grocery shop, which Dr. Lyons later acknowledged to be the inspiration behind his entrepreneurial drive. His first job at the age of 14 was at Harp Lager in Dundalk, where he helped out in the laboratory.
Dr. Lyons received his bachelor's degree from University College Dublin, Ireland, graduating with first-class honors. He continued into postgraduate study at the British School of Malting and Brewing in Birmingham, where he gained masters and doctoral degrees in brewing science from the University of Birmingham. In fact, he was the first Irishman to receive a formal degree in brewing and distilling from the university.
He interned at the Guinness and Harp Lager breweries and later worked as a biochemist for Irish Distillers, makers of Jameson whiskey. He was instrumental in designing the Midleton Distillery for Jameson, an opportunity which he considered to be a highlight of his early career.
Building a business with family at its heart
Pearse met Deirdre (nee Byrne) when she was 17, and they married in 1972. Their daughter Aoife Louise was born in 1973 and son Mark in 1976.
Dr. Lyons moved to the United States in 1976, having been asked by Irish distillery Gems Whisky to help ethanol distillers in Kentucky improve their processes.
In 1980, Dr. Lyons decided to "take control of his own destiny." He launched his own business, Alltech, which built its success upon the application of yeast technologies to animal health and nutrition.
Alltech was set up in a garage with an initial investment of $10,000 and enough money set aside to pay the mortgage and buy groceries for the family for a year. In its first year, the company turned over a million dollars.
The very name 'Alltech' ensured his family was built into the business from day one. Alltech's name is based on the initials of daughter Aoife Louise Lyons, and Alltech's signature logo color was son Mark's choice at the time.
Both of his now-grown children are leaders in the family business. His daughter Dr. Aoife Lyons is a licensed clinical psychologist and global director of educational initiatives for the company, while son Dr. Mark Lyons is now the president and chairman.
Deirdre, co-founder of Alltech, is director of corporate image and design. She designs and outfits the company's more than 80 offices around the world, and oversees Alltech's philanthropic involvement.
Brewing and distilling
Also in 1980, Dr. Lyons established The Alcohol School in Lexington, Kentucky, one of the few schools at that time for the distilling industry, and ran it for 25 years. He also published and co-authored The Alcohol Textbook, a text that evolved over four editions and soon became a key source for the beverage, fuel and industrial alcohol industries.
In 1999, when the former Lexington Brewing Company in downtown Lexington was closing its doors, Dr. Lyons purchased it to resurrect the brewing and distilling tradition of Lexington that dates back to 1794. The first beer from Dr. Lyons' new brewery, Alltech Lexington Brewing & Distilling Co., was Kentucky Ale®, a blend of two classic beer styles – an Irish red ale and an English pale ale. Another breakthrough came several years later when Kentucky Ale was placed into freshly emptied bourbon barrels from nearby distilleries to soak up the fresh bourbon and oak flavors. This brew was known as Kentucky Bourbon Barrel Ale® and soon became the brewery's flagship brew after its introduction to the market in 2006. It is regarded as one of the forerunners of the bourbon-barrel aging trend in craft beer.
In 2008, using two copper pot stills brought in from Scotland, the company distilled its first batches of whiskey in the brewery – and the company name was changed to Alltech Lexington Brewing and Distilling Company. After four years of aging, the company began bottling and selling its whiskey in October 2012. Town Branch Distillery was built across the street from the brewery – the first new distillery to be built in Lexington for more than 100 years – and became one of only a handful in the world to house both brewing and distilling operations. This new distillery was added to the Kentucky Bourbon Trail® and was the first craft distillery to be inducted into the Kentucky Distillers' Association. Town Branch Distillery now produces a line of spirits, including Pearse Lyons Reserve® – a malt whiskey introduced to the world on Dr. Lyons' birthday, fulfilling his dream of one day having his own whiskey.
Dr. Lyons continued to build upon his brewing and distilling passion – and his legacy – when in 2017 he and Deirdre realized their dream of opening an Irish whiskey distillery in Dublin. Their quest to find the perfect location led them to the long-abandoned St. James' Church in The Liberties district of the city. The church had been built prior to the signing of the Magna Carta, and Dr. Lyons and Deirdre set about painstakingly restoring it. The design project was led by Deirdre, introducing iconic new elements, such as a landmark glass spire – dubbed the 'Liberties Lantern' – and stained-glass windows designed by Deirdre herself. The creation of the new Pearse Lyons Distillery at St. James was made all the more meaningful by the fact that Dr Lyons' great-grandfather and several other relatives were buried in the churchyard.
Honors and awards
Dr. Lyons was widely recognized for his contributions to science and industry and was awarded honorary doctorates from many colleges and universities around the world. He was named Business Person of the Year by Business & Finance magazine and received the prestigious Ireland-U.S. Council Award for Outstanding Achievement. Irish Prime Minister Enda Kenny recognized him with the St. Patrick's Day Science Medal in recognition of creating a global business based on scientific research. He was also selected to receive the Commander's Award for Public Service, a rarely presented official U.S. Army medal, and has been honored with the prestigious Henry Clay Medallion for Distinguished Service, past recipients of which include Sandra Day O'Connor, Ted Turner and Princess Haya Bint Al Hussein.
Dr. Lyons spearheaded Alltech's commitment to international equestrian sport by sponsoring the Alltech FEI World Equestrian Games™ 2010 in Lexington, Kentucky, which led to his receipt of the Commonwealth of Kentucky's first-ever Legacy Award in 2011.
Giving inspiration
The Lyons family has had a passion for education, which has been evident in their personal investments and the investments of Alltech. As Dr. Lyons would often say, "Science doesn't have to be boring."
He and Deirdre funded and oversaw the construction of more than a dozen state-of-the-art science laboratories at primary schools in Kentucky and Ireland. The labs were completed as a personal tribute to Dr. Lyons' late brother, Father Kevin Lyons, a priest who was dedicated to improving the lives of children. The Lyons hoped to inspire children to greater curiosity about the world around them, and many of the schools with new labs have gone on to achieve Blue Ribbon Schools of Excellence status.
The Lyons believe in cultivating lifelong learning, and Dr. Lyons, in particular, was interested in encouraging budding scientists and entrepreneurs. The Alltech Young Scientist program, the largest global agriscience competition of its kind, has engaged more than 100,000 university students.
The Lyons also ensured that Alltech opened its doors to students for on-the-job discovery, with more than 450 undergraduates completing an internship program at the Alltech Center for Animal Nutrigenomics and Applied Animal Nutrition in Kentucky, and approximately 440 Ph.D., master's degree and graduate students being supported through Alltech's bioscience centers.
Also, at the university level, Dr. Lyons initiated an Alltech Innovation Competition, which awarded entrepreneurs with $10,000, the same amount with which he founded Alltech.
Believing that the arts are essential to creative thinking and innovation, Dr. and Mrs. Lyons led Alltech's sponsorship of the Alltech Vocal Scholarship Competition, which is considered one of the largest vocal scholarship programs in the world and has positioned the University of Kentucky Opera Theatre program as a Richard Tucker Foundation top-20 opera program. More than $500,000 in scholarships have been awarded annually to promising young vocalists.
Dr. Lyons was particularly well-known for leading Alltech's international conference, branded in recent years as ONE: The Alltech Ideas Conference. Held for more than three decades, the event has become Lexington, Kentucky's largest annual room booking, attracting nearly 4,000 people from more than 70 countries.
Giving back was also a passion for Dr. Lyons, so he established Alltech's ACE Involvement Foundation, a charitable foundation to help fund the company's philanthropic efforts. These efforts have included Alltech Café Citadelle, a Haitian coffee that offers a "cup of hope." Eager to do something to support Haiti following the devastating 2010 earthquake, Dr. Lyons determined he would create a sustainable Haitian enterprise that could provide a "hand up" to the country's residents. He found a gem in the country's 100 percent mountain-grown, organic Arabica coffee. All profits from the sale of Alltech Café Citadelle are reinvested into two primary schools in northern Haiti.
Dr. Lyons is survived by his wife, Deirdre; daughter, Aoife; and son, Mark and Mark's wife, Holly.
His business, Alltech, will remain privately held under the ownership of the family.
Funeral masses will be in Lexington, Kentucky, USA, on March 17 and in Dublin, Ireland, in April. A special celebration of life will be held on May 20 at the beginning of ONE: The Alltech Ideas Conference in Lexington.
Public visitation in Lexington will be on Friday, March 16. Arrangement details will be kept up to date on alltech.com/pearselyons.